'Tis the season…to have the cutest Holiday card photo!!! I was really starting to get used to the idea of summer being over. These foggy mornings have me wanting to curl up with a mug of hot cocoa and a good book (but I won't complain about 80+ degrees in September either). The lingering summer weather can make it hard to think about the holidays, but I'm here to tell you it's NOT too early to start thinking about a Fall photo session.
I have very limited availability this Fall, and will be holding Mini sessions for one day only! This ensures that I am able to give my clients the BEST experience, and get your photos edited and prepared with plenty of time for you to order photo gifts (think canvases or wall prints for the grandparents!) and to make and send holiday cards.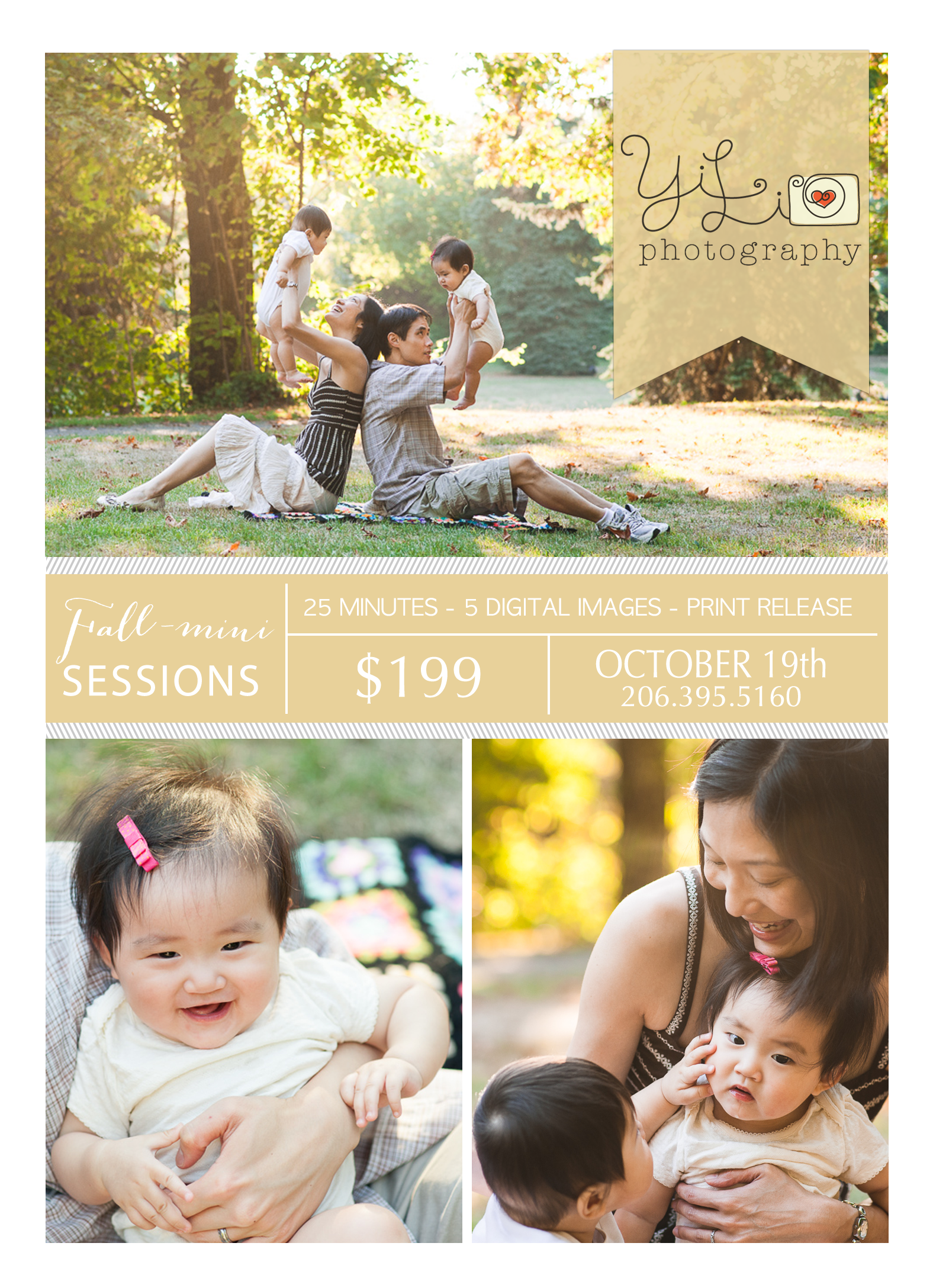 The details:
Sessions will be held at a secret outdoor location in Seattle with gorgeous fall colors. I will provide details upon booking!
Time slots are 25 minutes long, starting on the hour and half-hour at 9:00 AM until noon on Saturday, October 19th. This length of time is perfect for little ones (and let's face it, the husband) with short attention spans! You must be on time, as sessions are booked back to back.
Approximately 2-3 weeks after your session, you will receive access to your personal, password-protected online gallery. You will then pick your 5 favorites to receive as digital images, and I will provide info for you to download them directly from your gallery. You may also order prints, canvases, metal prints, or wall enlargements at the same time.
Ready to book? Call or send me a message using the "Contact" form above listing your top 2 preferred time slots. I'll get back to you to confirm a time, then provide you with a link to pre-purchase your Mini session which reserves your time slot.
Want longer than 25 minutes? I have very limited availability for Fall family sessions that last 60-90 minutes at the location of your choosing. Contact me if you're interested in one of those.
---
---
You might also like
---