We're in town for the long weekend, so we decided to hang out with my sister and her family and take a day trip to Bainbridge Island. Documenting these little trips is totally my jam, so I was happy for the opportunity to do some photographic storytelling. The kids absolutely love riding the ferry, and there are plenty of fun things to do just a stone's throw from the ferry terminal. Our original plan to walk-on to the ferry and leave our car parked in downtown Seattle was foiled by all of the waterfront construction and revisions to parking since our last trip to Bainbridge. There used to be a ton of public parking under the viaduct that was free on Sundays, so you could easily park then walk-on to the ferry. The last time we did this in August, we took our red wagon to haul the twins. Well today we were surprised to find out that while all of the street parking is still free on Sundays, it's now limited to 2 hours on Sundays. Boo. So alas, we ended up driving on.
It was just about lunch time when we got there, so we grabbed some crepes, which ended up being pretty kid-friendly. We had all kinds of varieties – ham & cheese, veggie, salmon, Canadian bacon & egg. Yummy! Next the kids headed to the fun little playground to get out all of their energy. After a good long play session, one of our kids heard another father mention ice cream, so alas, it was time for us to head back up the street for the highlight of the day: ice cream! Mora Iced Creamery has an overwhelming selection of flavors, so I stuck with my old favorite of banana, while Eric savored his favorite of white chocolate (eeeew!!!). For the twins, they requested chocolate, and big sis enjoyed mint with shaved chocolate.
Thanks to Eric for snapping a few photos on my camera while I enjoyed my ice cream. See if you can spot me in the slideshow! My favorite memory of the day was on the return ferry ride back to Seattle. Morgs kept saying she wanted to go outside, so we ended up at the very front of the boat on the outside deck. I sat down and she plopped down on my lap, with the wind in our hair, and Bennett jumping around like a crazy boy in front of us. I stretched out my legs, and she stretched hers out and crossed them on top of mine. I snapped to photo to remember those few blissful moments of contentment.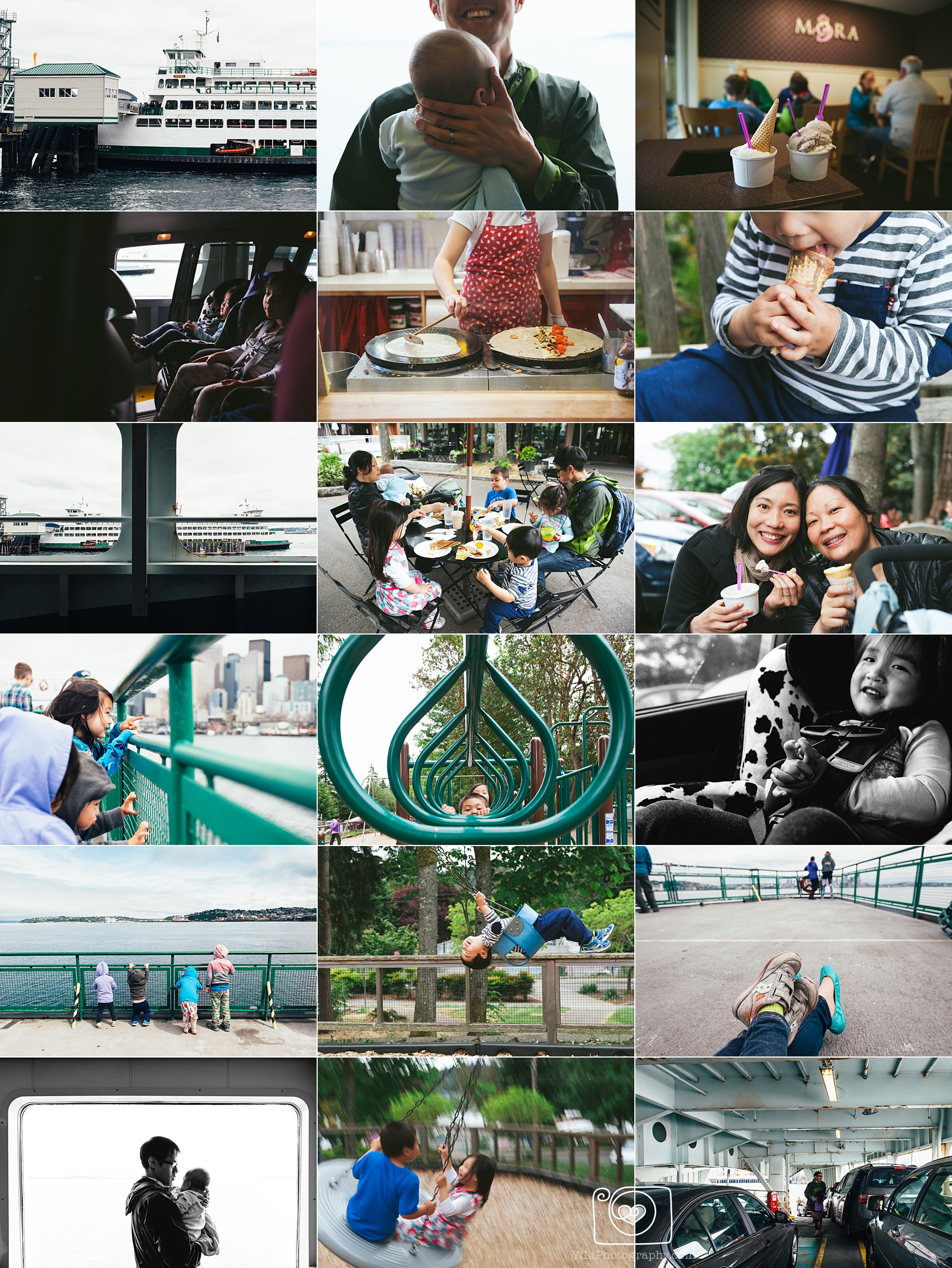 Carrie Yuan is a family portrait photographer in Seattle, Washington, specializing in documentary family photography sessions that honestly tell the story of your family's here and now. Carrie's passion is to document the full-of-love journey that is parenthood and childhood (with a sprinkling of humor). Carrie lives in Seattle with her family: a husband who still has a special way with babies, a five year old who is thrilled to show anyone and everyone her first permanent molar that's coming in, two year old twins who are appropriately described as being one cat and one dog (we'll let you guess), and a lab-ridgeback canine who gracefully handles a lot of abuse from the kids.
Carrie is currently booking family documentary photo sessions (that do NOT require the purchase of new outfits, or cleaning your house), in-home newborn sessions in the Greater Seattle area, and hospital newborn sessions in Seattle hospitals.
---
---
You might also like
---