Call me crazy, but this year I'm excited to announce that I'm offering FREE holiday mini sessions for clients who book a full portrait session in 2015! Get that photo for your holiday card, and secure your family session for 2015! Read on for the complete deets!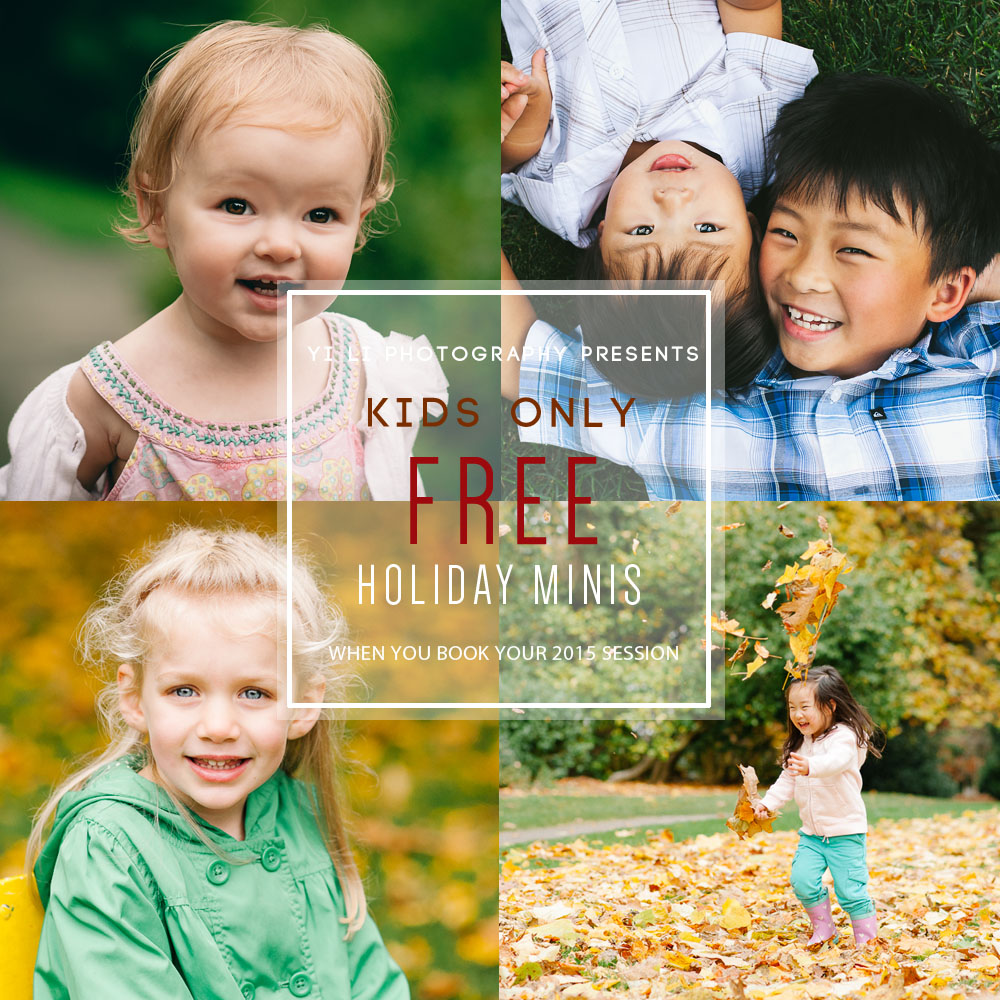 When: Morning of Sunday, November 9th
Where: A secret location in Northwest Seattle. You'll get the details after booking!
Who: Kids only!
How long: 20 minutes
What's included? 1 complimentary digital image via digital download. Additional images may be used in your holiday card design when you order press cards through our studio.
Can I purchase other items? Certainly! I'll create a private online gallery of all images, where they'll be available to purchase prints, wall art, or additional digital files. Prints start at $40 and digital images are priced at $199 for 5 or $299 for 10. Holiday cards are $50 for the first set of 25, then $1.75 for each additional card.
Where can I find out more about what it's like to have a full session with you? I'm passionate about recording your family's story in an authentic, REAL, and beautifully artistic way. Read about Session Details here, and for even more info, submit the CONTACT form to get more detailed info in the Client VIP Lounge. When you submit the Contact form, a confirmation message will pop up providing the password to the Client VIP Lounge.
How do I reserve a mini session? Easy! Send me a message via the CONTACT form to select the month you would like to book your 2015 session, then pay the $300 reservation fee for that session in the Client VIP Lounge.
What if we want more than 20 minutes, or want to include the whole family? I have one remaining date available for a full portrait session in 2014 – November 15th; otherwise I am fully booked through the New Year. Contact me if you want it!  UPDATE: I'M FULLY BOOKED FOR 2014!
The more the merrier! When you book a kids mini session and refer a friend who books a session too, I'll throw in a complimentary set of 25 holiday cards for you!

---
---
You might also like
---