I'm thrilled to now be offering short promotional videos for small businesses, brands, and non-profit organizations in the greater Seattle area. As a documentary family photographer and filmmaker, I will continue to work with family clients to create video time capsules of their family life but let's face it: family time capsule videos are really only interesting to the people in the film and their loved ones. I'm excited by the creative challenge of telling a story through video that will interest a broader range of viewers, and thus far, making a different type of film has been so creatively satisfying.
I love the idea of creating a film that tells a story, gets viewers excited about a company or product, and helps people get to know a brand or issue. People love listening to stories, and video is THE way to tell them. Video content is being prioritized over still images in every social media/web platform out there, and brands that embrace video will be at the cutting edge of marketing.
And guess what? You don't need to have a polished on-camera persona at all. It's my job to create a relaxed environment that will result in a really authentic message, and I'll share a secret: the magic is in the editing!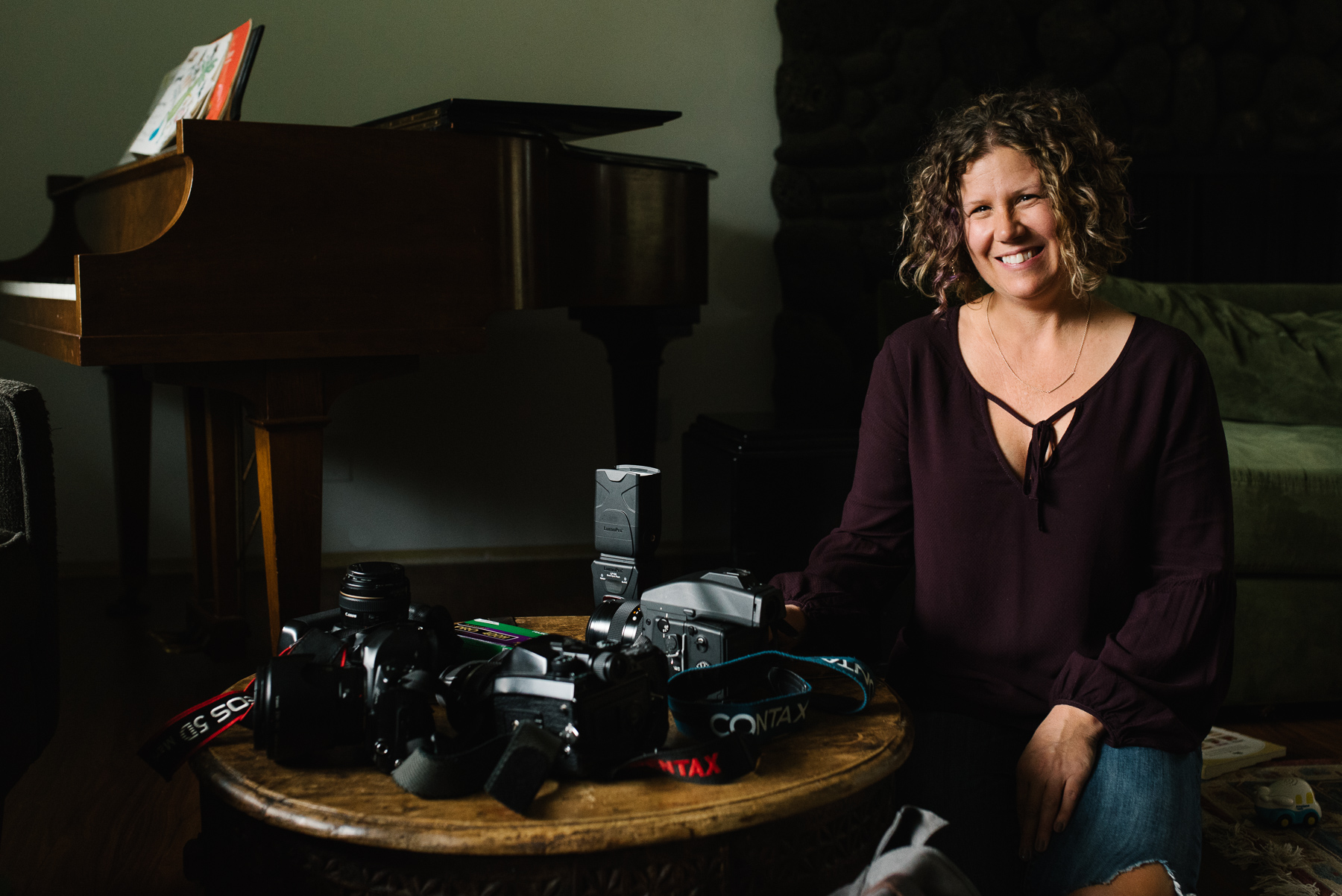 I recently created a film for Kim Hildebrand Photography which was geared towards other photographers and highlights Kim's expertise in teaching her signature lighting techniques used to create beautiful in-home lifestyle sessions on analog film. Kim is teaching at the popular Click Away conference in February, and offers personal lighting mentoring to other photographers.
Here's what Kim had to say about our collaboration:
"I hired Carrie to create a commercial promo video for my photography business, and I am thrilled by the results! Carrie documented me photographing another family and through the process, shot videos from a list of subjects we wanted to capture while also incorporating movement, laughter, light, and feeling from the shoot to give it life. Through her superb video editing skills, she was able to seamlessly incorporate everything together into a fun, informative and cohesive promo video for my business! I met with her one more time where she interviewed me for the video, and I was the most nervous about this part. I had nothing to be nervous about, though, as she immediately put me at ease. I could tell she had done her research because she asked detailed questions about my business and philosophy, which helped her make my video expertly tailored to my business. If you need a commercial video for your business, no need to look further! Carrie is amazing. She is a true professional and I would hire her again in a heartbeat."
Thank you for the kind words, Kim! I'm excited for the future video projects we have planned together!
If you're a business owner and are interested in discussing how a short film can become an integral part of your online marketing or social media presence, I'd love to chat! 
---
---
You might also like
---