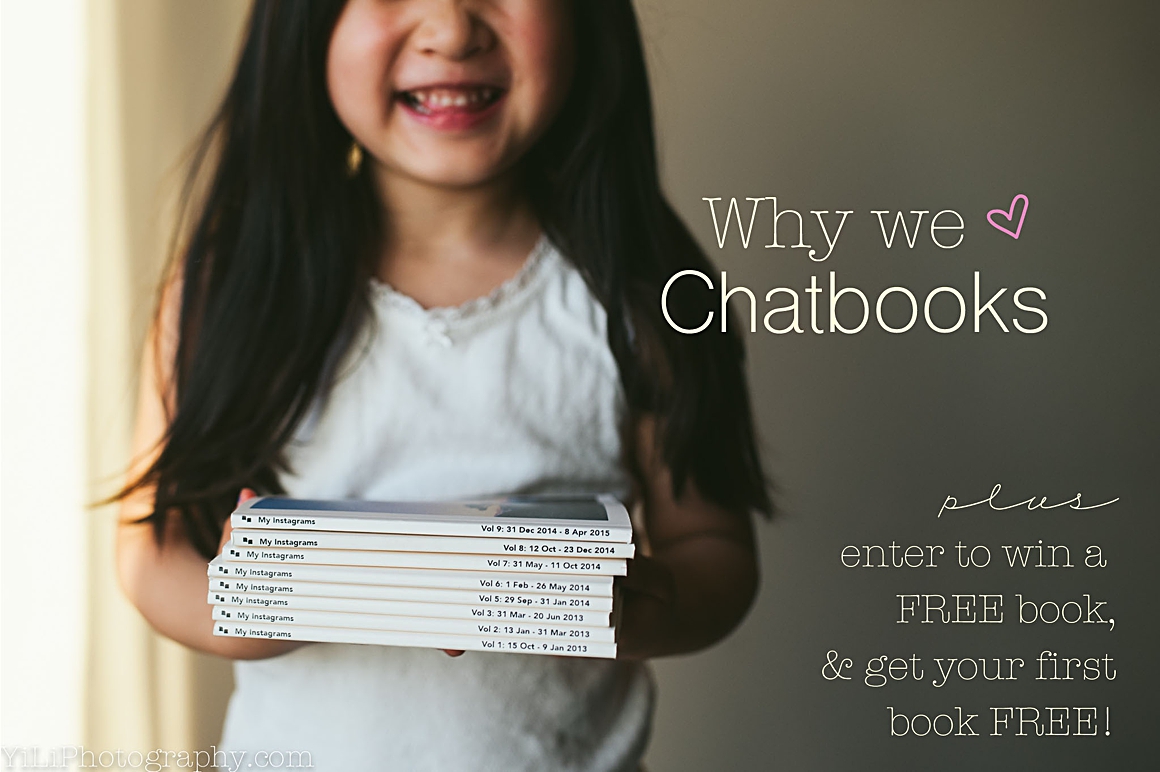 Let's talk for a second about documenting your family's memories through photographs. Sure, it's a great idea to hire me once a year to document the beautiful, amazing everyday that is your family's life, but what about the other 364 days? If you're like me, and I bet you are, chances are a lot of those 364 days get documented with your smartphone. But after a quick share on Facebook, how do you save those photos and memories so that you can live with them? How do you make your smartphone photos tangible?
Enter Chatbooks. Yes, there are plenty of companies out there that you can use to make photo books from your phone photos. I've probably tried most of them. What makes Chatbooks different, and in my opinion so completely awesome, is the fact that they are automatic photo books. Yup. I said automatic. And seriously, who doesn't need more things automated in their life?! What this means is that every time my Instagram feed reaches 60 new photos, Chatbooks will make and mail me a new 6×6″ softcover book with 60 photos in it. The cost? Just $6 + free shipping. What?!?! Yes, you read that correctly.
How it works:
You'll need a free Instagram account. If you already have one, you're good to go. Download the Chatbooks app to your smartphone, and set up an account that will link to your IG account. If you already have an Instagram feed, when you subscribe to the Chatbooks Instagram series, all of your photos will be chronologically placed into volumes of 60 photos each. If this creates a massive number of volumes, you can choose how many and how frequently you'd like to receive them until you're caught up. Once you're caught up, you get a new volume shipped each time your feed reaches 60 new photos.
What if I don't want some photos in my book?
You'll get an email 3 days before the book is made, informing you that now is the time to exclude any photos if you want. Simply open the app on your phone and make any changes, including selecting the cover photo (default is the first photo of the 60).
I know. You're wondering about the quality.
Because $6 is just too good to be true. I wondered this too. The covers are 100# matte paper and the pages are 100# satin coated paper. Compared to other companies whose products are 4x the cost, the difference is negligible. Again, what really tips the scales for me is the fact that Chatbooks are automatic. Making books with the other companies and other apps just took so darn long to choose photos & layouts, I just know I wouldn't make the time to do it with any regularity. So eliminating all of that hassle really is where I think Chatbooks are just magical.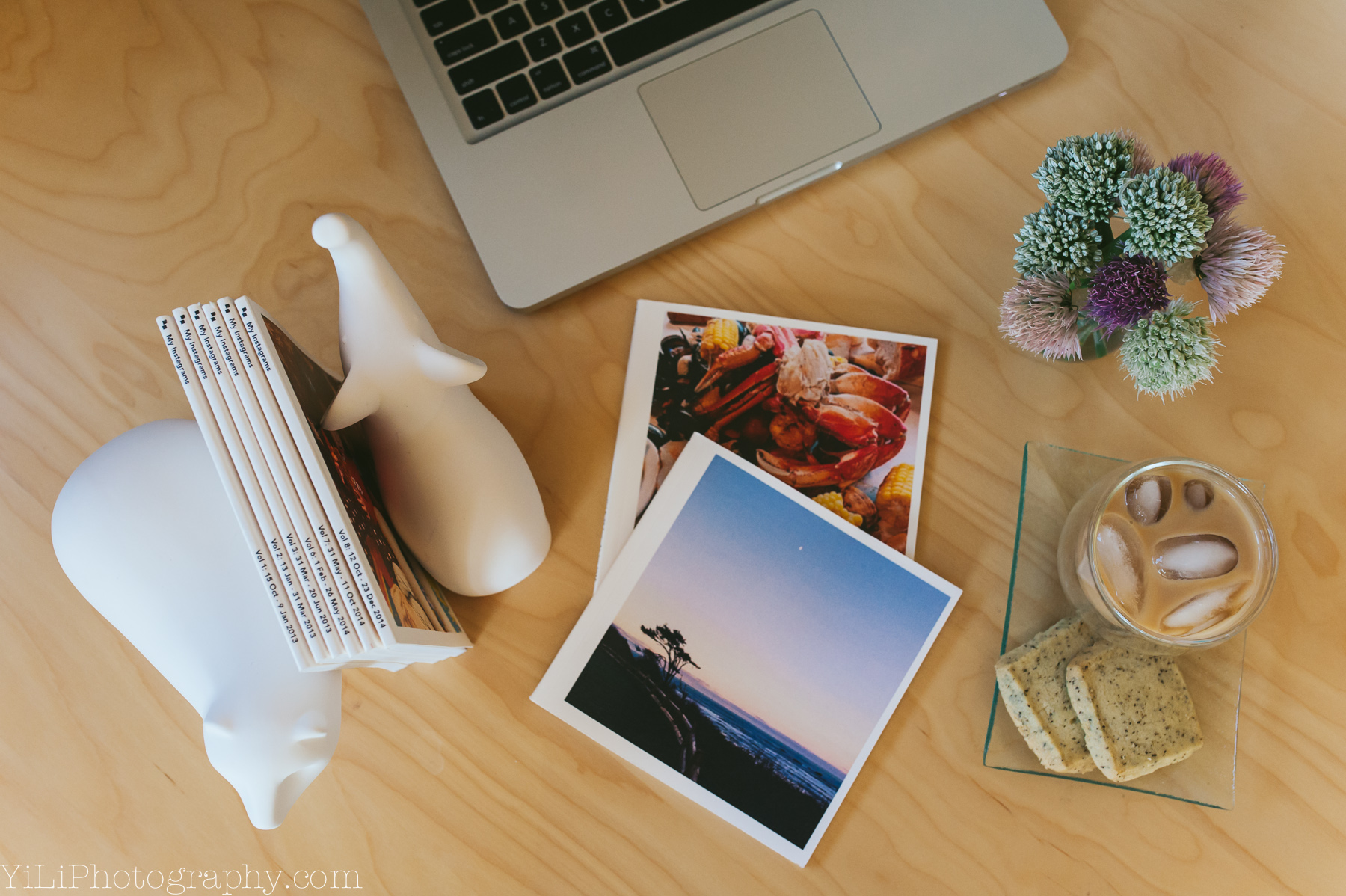 Receiving a little envelope with a new Chatbook just makes my day! And my kids just love thumbing through them. I am a huge proponent of getting your memories out of digital format and into something tangible for you to live with. In this digital era, we often underestimate the power of printed photographs to improve our mood, uplift us, and inspire.
Chatbooks have changed the way I use my phone to capture everyday memories. I rarely share iPhone photos on Facebook anymore. I'm uploading to Instagram instead (pssst…are you following me? I'm @yiliphoto), since I know those photos will end up printed in a Chatbook. My 10th volume is printing as we speak, and I can't wait to get it. I'm hooked!
Now is the time to get on this!
I almost forgot what prompted me to finally write this blog post. I got an email from Chatbooks the other day announcing that they will soon be releasing Chatbooks 2.0, and they're raising the prices of books by $2. BUT, for existing subscribers, they'll grandfather in the current pricing of $6 for an additional 2 years! The new app will be released in late July/early August, so it's obviously a great time to become a subscriber at current pricing!
Your first book is free!
Subscribe to the Chatbooks Instagram series and use this promo code to get your first book FREE! QFYGLHQH
Plus, ENTER TO WIN one of two free Chatbooks that I'll be giving away! Simply subscribe to my news & updates list (I *promise* NOT to spam you! I'll send an email with useful info like this once a month or less.) below:
I'll pick two winners after July 1, 2015, who will each receive a gift card to redeem for a free 60 page Chatbook!
Do you work for Chatbooks or are you sponsored by them?
This post & giveaway is not sponsored by Chatbooks. We just really love their stuff! And I know I really appreciate it when someone takes the time to provide an unsponsored product review. A few months ago I had an issue with one of my books, where some photos I excluded got printed in the book. I contacted them, and was so impressed with their customer service. Very responsive and totally made things right (even though it was my fault for not having the latest version of the app on my phone!) In the spirit of full disclosure, if you use the promo code above to get your first book free, I get a buck towards my future Chatbooks. Yay!
---